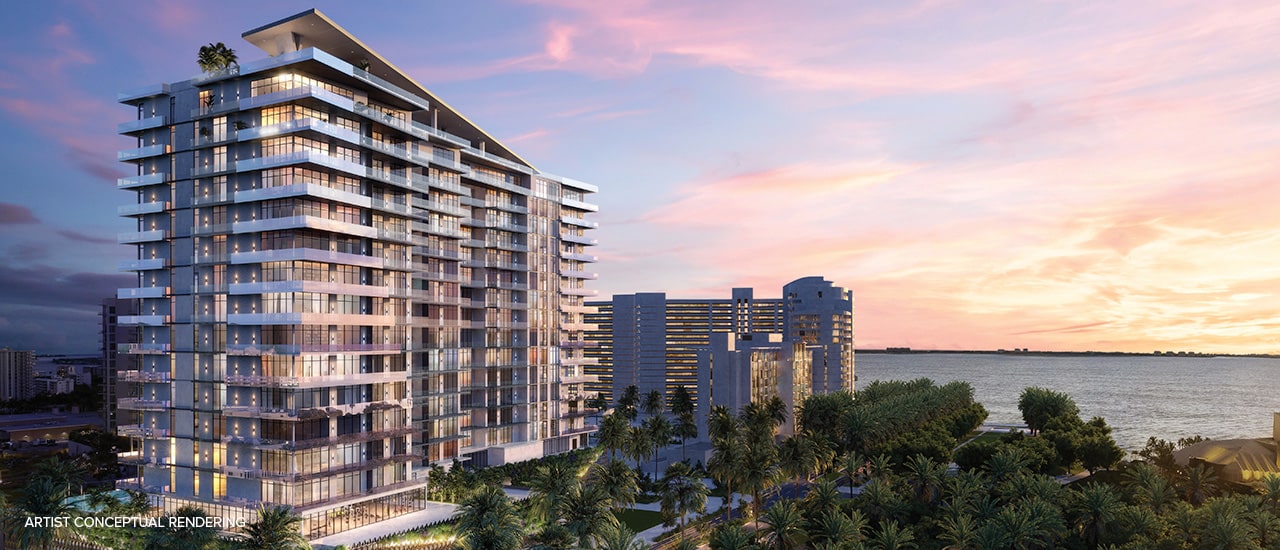 One Park Sarasota Makes $1 Million Commitment to The Bay Park Conservancy
April 14, 2022 | Read Time: 4 minutes
SARASOTA, Fla. – April 13, 2022 – One Park Sarasota, a luxury condominium development overlooking The Bay Park, is pleased to announce its support of The Bay Park Conservancy (BPC), the non-profit organization responsible for overseeing the redevelopment of 53 acres of City-owned land along Sarasota Bay into an iconic public park.
One Park Sarasota, a luxurious 123-unit property co-developed by national developer PMG and Sarasota-based JEBCO Ventures, has committed a $100,000 sponsorship toward The Bay's Grand Opening Celebration and pledged $1 million towards capital improvements throughout Phase 1.
"The Bay Park Conservancy appreciates the generosity of One Park and their shared commitment towards investing in The Bay Park, the most valuable community asset in Sarasota, and one that is accessible, free, and open to the full diversity of Sarasota," says AG Lafley, Founding CEO of The Bay Park Conservancy.
"The Bay Park is an incredible addition to the Sarasota community and we are thrilled to be supporters of the cause," said Dan Kaplan, Managing Partner at PMG. "PMG has been confident in the robust growth of Florida's west coast for years now. We are grateful to play a direct part in it with this commitment to Sarasota's Bay Park project, which will improve the lives of residents and visitors alike with activated spaces idyllically located in the heart of Downtown Sarasota."
"As a Sarasota local and resident for over four decades, I am a steadfast proponent of our community and I am so pleased One Park is committing to the growth of its future. The Bay Park will serve as a central hub for the community and a gorgeous addition of green space for all to enjoy," said Kim Githler, Managing Partner of JEBCO Ventures. "We are also looking forward to commemorating The Bay's Grand Opening later this year as a sponsor of the celebration."
The Bay is a community-led civic initiative to transform 53 acres of city-owned land into an iconic public park on Sarasota Bay. Phase 1 of the park will open in October 2022, which will include award-winning features such as the Common Ground lawns, the Mangrove Bayou Walkway and outdoor Reading Room, an ADA-accessible paddle launch, an artistic playspace and concession pavilion, restored and preserved mangroves and shorelines, and more. For more information about The Bay Park Conservancy, visit www.thebaysarasota.org.
About One Park Sarasota
One Park Sarasota will be an iconic property nestled alongside The Bay Park on Boulevard of the Arts and N Tamiami Trail. Designed by Sarasota-based firm Hoyt Architects, the 123-unit property will create a serene and relaxing living experience, complemented by over 63,000 square feet of curated amenities, an unparalleled level of service, and stunning views of The Bay Park, Sarasota Bay and the city skyline. For more information, please visit www.OneParkSarasota.com.
About The Bay
The approved Bay master plan will conserve 53 acres of city-owned land and create an iconic public park along Sarasota Bay. The Park will cost about $100-150 million and will take between 7-10 years, over 3 or more phases to complete. The Blue Pagoda serves as a welcome center for visitors and an on-site office for The Bay Park Conservancy. For more information or general inquiries about this initiative, please visit www.thebaysarasota.org or call 941-203-5316.
About The Bay Park Conservancy
The Bay Park Conservancy (BPC) was formed as a 501c3 not-for-profit organization in 2019 to implement the master plan approved by the Sarasota City Commission to conserve 53 acres of public land for a community park on Sarasota Bay. The BPC entered a long-term partnership with the City and will fund, develop, operate, and sustain the park for the benefit of the community, now, and for generations to come. For more information, visit www.thebaysarasota.org.